PF ALBINO SUB RACE
minimum order - the usual $20 for any two spore race syringes of your choice (PF albino sub race syringes will be marked with an "A") IMPORTANT NOTE FOR NON USA ORDERS: unfortunately, syringes are being grabbed more and more by customs of other countries. If you are ordering from outside the USA, add $10 special handling. PF is not responsible for customs snafus or losses thereby. For $20 USA funds or money order, PF will make a good attempt to send one 10cc syringe of the Albino sub race anywhere in the world.
PF has no idea of where this is going to wind up. Will this strange new Albino strain producing PF sub race stabilize? How long will it last and what will it do over time through continued reculturing? Will it die and become senescent? Maybe what is seen here is its destination. Maybe it has stabilized and the albinos are an expression of what seems to appear as a new Albino PF sub spore race. PF guarantees nothing but that the syringes are clean and produce mycelium. Let the mycosophy begin.
These photos clearly represent what a "strain" is. As observed by this photo, one can see three clearly different looking shrooms growing side by side. These are strains. It is lazy mycology to call spore samples a "stain". PF has been teaching for a long time now, a spore sample is a RACE and the strains are the individuals that appear in culture.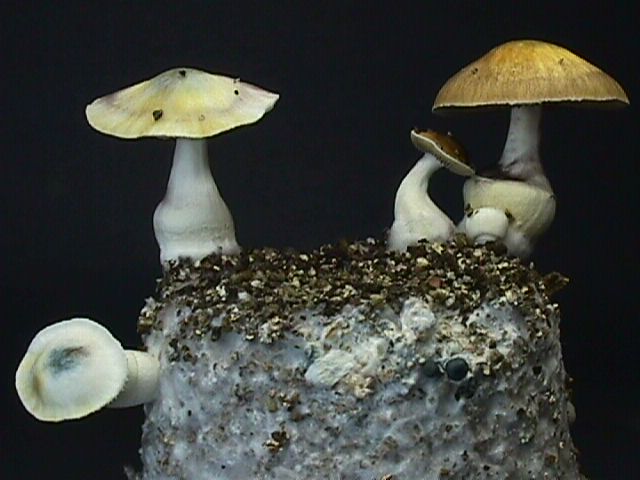 This is a photo of the new PF Albino sub race. It is a cake that has been picked over. You can see tears where shrooms were picked for spore printing. The remaining shrooms are the stragglers in a first flush. The one on the far left is a pure Albino with a blue discoloration at the top of the cap and some purple spores from another shroom. The shroom in the center is a "half breed" in which some light sporulation is developing but the cap is strange in color - with light colors and greenish and blueish tints. The gills of this "half breed" are mixed up with some light colored gills that are lightly sporulating and white sterile gills. The shrooms on the right are more normal, but at closer inspection, there is something wrong with them also. The colors aren't "right" and they too have a greenish palor to them. The shrooms that were picked for sporulation (evidenced by tears in the cake), have definite GREENISH colors towards the center of the cap and an over all strange lightness in color. The sporulation is not spectacular, but they are giving plenty of purple spores.
This is a very unusual new creature. Very unusual in that it has never existed before. It came into being in the lab of PF. It can be said, that this shroom is truly PF's shroom - a creation of the PF TEK. What has happened, is that through reculturing and isolation of all the "normal" shrooms from the original Albino appearing cakes (pure Albinos at first), the Albinos have returned as a part of the spore race. What is happening is a first in mycology and after a little consultation, let it be known that this is a mystery of genetics and fungi reproduction. The only "explanation" that PF can come up with, is that PF shroom Albinoism is a kind of "refusing to grow up" syndrome. When primordia first appear, they are Albino and get color soon after. Pins (the precursors) of primordia are indeed pure white. So maybe the fact that pure Albinos don't sporulate or develope reproductive systems is related to not "growing up".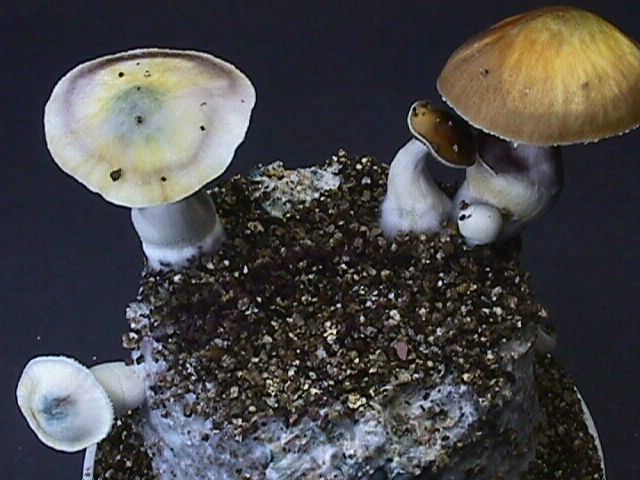 This a view from the top of the cake (above). The strange colors are a little easier to see, although the digital photo color rendition isn't perfect. The thing to do if one wants to explore the ultimate in growing the unknown, is to clone that pure Albino or any of them to see what will happen. The results of such an action has already shown to be astounding. And, according to a recent bio-assay, the pure Albinos are excellent potency (the strangest thing yet).
PF home page - www.fanaticus.com
PSYLOCYBE FANATICUS
December 2000


Grow Mushrooms from Spores
PF-Tek for Simple Minds

PF-Tek voor de gewone man |

La PF-Tek pour les nuls
PF-Tek für einfache Gemüter |
PF-Tek απλ?ς λογικ?ς |

PF-Tek Senza Fatica |
PF-Tek iesacejiem |
PF-Tek Paprastoms Mintims |

PF-Tek for Lavpanner |
PF-Tek pentru oameni simpli |

PF-Tek na jednostavan nacin |

PF-Tek za telebane |

PF-Tek para Mentes Simples |
PF-Tek för latmaskar |


Laminar Flow Hood - Build a HEPA filter flowhood |

Hotte de ventilation laminaire - Construire une hotte avec un filtre HEPA |


Psilocybe azurescens outdoor cultivation |

Culture extérieure du Psilocybe azurescens |

Psilocybe azurescens buitenkweek |


Grain for Simple Minds |

Graan voor de gewone man |

Método para torpes de preparación de grano |

Granaglie Senza Fatica |

Le Grain pour les nuls |
Grudai? |


Importance of Gas Exchange |

Het belang van gaswisseling |
Oro kaitos svarbumas |

L'Importance des Échanges de Gaz
|


Polyfil filter lid for Simple Minds |

Polyfil filterdeksels voor de gewone man |

Polyfill for Simple Minds italiano |

Método para torpes de elaboración de filtros de fibra de poliéster |
Dangtelis su filtru |

Couvercle avec filtre Polyfill pour les nuls
|


Pouring Agar for Simple Minds |

Agar uitgieten voor de gewone man |

Versare l'Agar Senza Fatica (...e senza condensa) |

Método para torpes de llenado de placas petri con agar |

Couler l'Agar pour les nuls
|


Cloning for Simple Minds |

Klonen voor de gewone man |

Método para torpes de clonación de setas |

Le clonage pour les nuls |

Clonagem para Mentes Simples |
Klonavimas |


Pressure cooker test |

Snelkookpan test |

Test della pentola a pressione |

Test para comprobar el correcto funcionamiento de ollas a presión |

Teste para a Panela de Pressão |

Test de cuiseur sous pression
|


Pressure Cooker Use |


Homemade Tyvek filter discs test |


Mycelium Inoculation Technique |

Technique d'Inoculation de Mycélium
|


Casing PF-Cakes |

Het Bedekken van PF-Cakes |
PF-Tek pyrageliu aptaisymas |

Casing pour gâteaux PF-Tek
|
Casing pentru prajituri PF