EQUADOR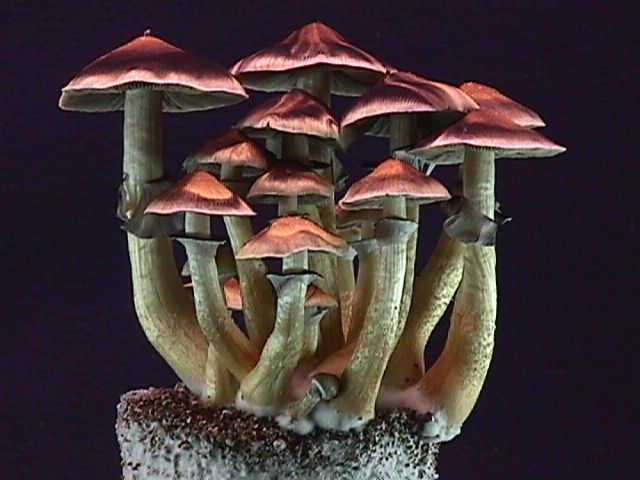 This is one of the best cultivars. It has appeared for many years. Its first appearance is a cover photo. Paul Stamets first book, "Psilocybe mushrooms and their allies" has the Equador on the cover. This is a very nice second flush and this shroom is a fav of many because of its incredible stature and growing ability.
Equador race descriptions
1. CAP (size - shape stages - colors)
dome shaped - doesn't go to plane at maturity but becomes convex. It never upturns. The primordia caps are sometimes a deep purple reddish with white spots.
2. STEM (length - girth - flesh - colors)
Fibrous, sturdy, thick and whitish.
3. VEIL (deliquescent - partly deliquescent - persistant anulus)
The veil is persistant, leaving a skirt like anulus attached to the stem.
4. SPORULATION (at what developement stage does it begin?)
It begins quickly, maturing fast after veil break.
5. TENACIOUSNES (Strength of attachment of the stem base to the cake)
Moderately attached and easy to pick cleanly.
6. SHAPE SHIFTING (shapes and changes of flush to flush - strain to strain)
Very little shape shifting - a very stable appearing shroom from strain to strain.
7. SIZE TENDANCIES (overall size of the mushroom at maturity)
From small to about as big as they get.
8. GESTATION PERIOD (generalized time of primordia appearance after inoculation)
Like the Hawaiian, longer than the PF, and not a very good invitro primordiator. It can primordiate and give some perfect specimens, but it does better to birth after about a month and give it the PF double ended cake casing treatment.
9. POTENCY (This simply comes down to how fast the shroom loses its latent potency - relating to the advent of sporulation)
This is a fast maturer, so the specimens must be picked in advanced primordia stage right before veil breakage for good potency.
10. FLUSHING (Ability to repeat flush)
It is a great flusher, giving three really good PF style flushes and more if the lemon is to be squeezed.
And, like the Hawaiian (Golden Teacher from PFE), it glows a yellowish hue from top to bottom right before the veil breaks. Then it quickly loses the gold color.
PF home page - www.fanaticus.com
Psilocybe Cubensis spore race photos and descriptions
Grow Mushrooms from Spores
PF-Tek for Simple Minds

PF-Tek voor de gewone man |

La PF-Tek pour les nuls
PF-Tek für einfache Gemüter |
PF-Tek απλ?ς λογικ?ς |

PF-Tek Senza Fatica |
PF-Tek iesacejiem |
PF-Tek Paprastoms Mintims |

PF-Tek for Lavpanner |
PF-Tek pentru oameni simpli |

PF-Tek na jednostavan nacin |

PF-Tek za telebane |

PF-Tek para Mentes Simples |
PF-Tek för latmaskar |


Laminar Flow Hood - Build a HEPA filter flowhood |

Hotte de ventilation laminaire - Construire une hotte avec un filtre HEPA |


Psilocybe azurescens outdoor cultivation |

Culture extérieure du Psilocybe azurescens |

Psilocybe azurescens buitenkweek |


Grain for Simple Minds |

Graan voor de gewone man |

Método para torpes de preparación de grano |

Granaglie Senza Fatica |

Le Grain pour les nuls |
Grudai? |


Importance of Gas Exchange |

Het belang van gaswisseling |
Oro kaitos svarbumas |

L'Importance des Échanges de Gaz
|


Polyfil filter lid for Simple Minds |

Polyfil filterdeksels voor de gewone man |

Polyfill for Simple Minds italiano |

Método para torpes de elaboración de filtros de fibra de poliéster |
Dangtelis su filtru |

Couvercle avec filtre Polyfill pour les nuls
|


Pouring Agar for Simple Minds |

Agar uitgieten voor de gewone man |

Versare l'Agar Senza Fatica (...e senza condensa) |

Método para torpes de llenado de placas petri con agar |

Couler l'Agar pour les nuls
|


Cloning for Simple Minds |

Klonen voor de gewone man |

Método para torpes de clonación de setas |

Le clonage pour les nuls |

Clonagem para Mentes Simples |
Klonavimas |


Pressure cooker test |

Snelkookpan test |

Test della pentola a pressione |

Test para comprobar el correcto funcionamiento de ollas a presión |

Teste para a Panela de Pressão |

Test de cuiseur sous pression
|


Pressure Cooker Use |


Homemade Tyvek filter discs test |


Mycelium Inoculation Technique |

Technique d'Inoculation de Mycélium
|


Casing PF-Cakes |

Het Bedekken van PF-Cakes |
PF-Tek pyrageliu aptaisymas |

Casing pour gâteaux PF-Tek
|
Casing pentru prajituri PF