MALAYSIAN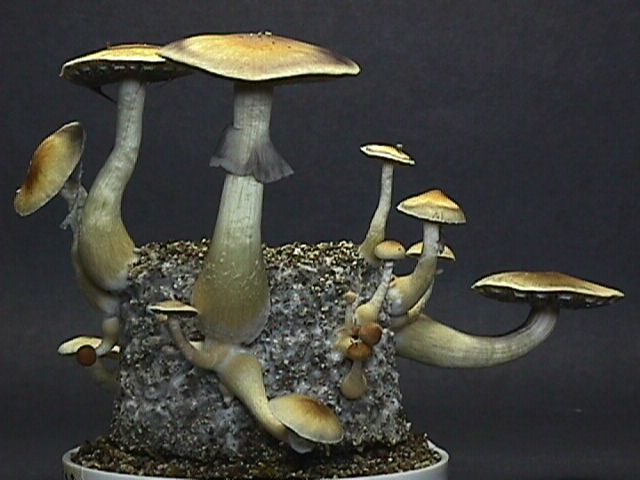 This spore race was sent to PF on a trade and the sender said it was MYCO TECH (Seattle) MALAYSIAN.
MALAYSIAN RACE DESCRIPTIONS
1. CAP (size - shape stages - colors)
It doesn't upturn at full maturity, but goes to plane. The colors are the usuall.
2. STEM (length - girth - flesh - colors)
Whitish, fibrous and hefty slender.
3. VEIL (deliquescent - partly deliquescent - persistant anulus)
This one is a combo. It has a fully deliquescent veil and also can leave behind an EQ style "skirt" persistant anulus. Very mystifying.
4. SPORULATION (at what developement stage does it begin?)
Not an early maturer.
5. TENACIOUSNES (Strength of attachment of the stem base to the cake)
Moderate
6. SHAPE SHIFTING (shapes and changes of flush to flush - strain to strain)
Stable - few aborts.
7. SIZE TENDANCIES (overall size of the mushroom at maturity)
Tiny to moderate
8. GESTATION PERIOD (generalized time of primordia appearance after inoculation)
Similar to the EQ or HA - moderate.
9. POTENCY (This simply comes down to how fast the shroom loses its latent potency - relating to the advent of sporulation)
Pick presporulation
10. FLUSHING (Ability to repeat flush)
Looks good and probably will flush several times with proper care.
PF home page - www.fanaticus.com
Grow Mushrooms from Spores
PF-Tek for Simple Minds

PF-Tek voor de gewone man |

La PF-Tek pour les nuls
PF-Tek für einfache Gemüter |
PF-Tek απλ?ς λογικ?ς |

PF-Tek Senza Fatica |
PF-Tek iesacejiem |
PF-Tek Paprastoms Mintims |

PF-Tek for Lavpanner |
PF-Tek pentru oameni simpli |

PF-Tek na jednostavan nacin |

PF-Tek za telebane |

PF-Tek para Mentes Simples |
PF-Tek för latmaskar |


Laminar Flow Hood - Build a HEPA filter flowhood |

Hotte de ventilation laminaire - Construire une hotte avec un filtre HEPA |


Psilocybe azurescens outdoor cultivation |

Culture extérieure du Psilocybe azurescens |

Psilocybe azurescens buitenkweek |


Grain for Simple Minds |

Graan voor de gewone man |

Método para torpes de preparación de grano |

Granaglie Senza Fatica |

Le Grain pour les nuls |
Grudai? |


Importance of Gas Exchange |

Het belang van gaswisseling |
Oro kaitos svarbumas |

L'Importance des Échanges de Gaz
|


Polyfil filter lid for Simple Minds |

Polyfil filterdeksels voor de gewone man |

Polyfill for Simple Minds italiano |

Método para torpes de elaboración de filtros de fibra de poliéster |
Dangtelis su filtru |

Couvercle avec filtre Polyfill pour les nuls
|


Pouring Agar for Simple Minds |

Agar uitgieten voor de gewone man |

Versare l'Agar Senza Fatica (...e senza condensa) |

Método para torpes de llenado de placas petri con agar |

Couler l'Agar pour les nuls
|


Cloning for Simple Minds |

Klonen voor de gewone man |

Método para torpes de clonación de setas |

Le clonage pour les nuls |

Clonagem para Mentes Simples |
Klonavimas |


Pressure cooker test |

Snelkookpan test |

Test della pentola a pressione |

Test para comprobar el correcto funcionamiento de ollas a presión |

Teste para a Panela de Pressão |

Test de cuiseur sous pression
|


Pressure Cooker Use |


Homemade Tyvek filter discs test |


Mycelium Inoculation Technique |

Technique d'Inoculation de Mycélium
|


Casing PF-Cakes |

Het Bedekken van PF-Cakes |
PF-Tek pyrageliu aptaisymas |

Casing pour gâteaux PF-Tek
|
Casing pentru prajituri PF