False Mexicana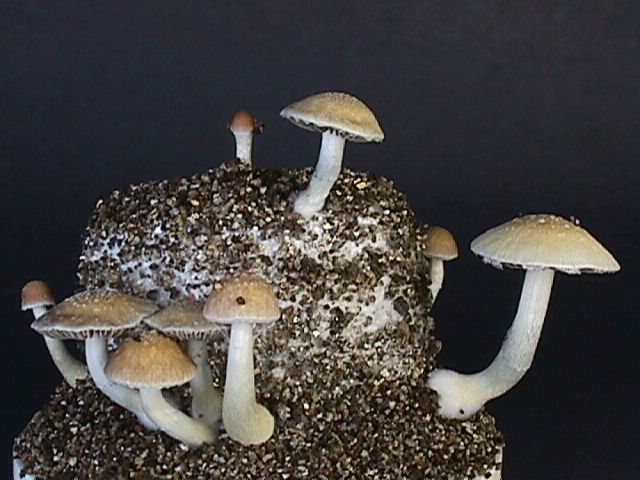 This mushroom started a real fury in the beggining of 1999. On the alt.drugs.mushrooms newsgroup, a spore seller appeared called FOGGY MOUNTAIN FARMS. They advertised a PSILOCYBE MEXICANA spore syringe and prints. Along with PANEOLOUS TROPICALIS and others, they offered the absurd "Azurescens Cubensis B+ hybrid". PF posted that it was a rip, and then the beginning of the 1999 spore wars took off. It turns out to have been a cubensis (as PF insisted). Then it was named MEXI-CUB.
This is an interesting little cubensis. That is exactly what it is, a small cubie. That is what they call it in Europe. The PF style flushes are small, but they are numerous over time. It likes to flush several times and each flush is incredibly different then the last. This is a surprising little shroom. Sometimes, it looks just like a pan cyan with no anulus, smooth slender white stem and dome like cap. But then, it can be medium sized with a large cap that goes to plane at maturity. The larger appearing strains have a cap color that is light with an orangish center. With PF style growing, this shroom never seems to want to get very big.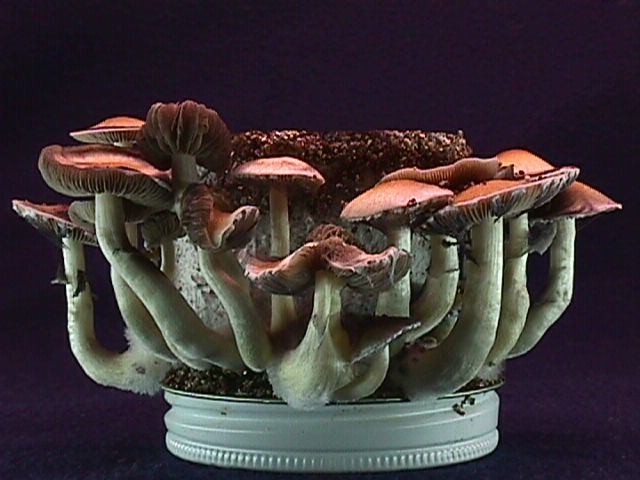 This is the photo PF uses for the PF ad in High Times magazine. As can be seen, this flush is much different from the above flush. It's a shape shifter.
PF home page - www.fanaticus.com
Psilocybe Cubensis spore race photos and descriptions
Grow Mushrooms from Spores
PF-Tek for Simple Minds

PF-Tek voor de gewone man |

La PF-Tek pour les nuls
PF-Tek für einfache Gemüter |
PF-Tek απλ?ς λογικ?ς |

PF-Tek Senza Fatica |
PF-Tek iesacejiem |
PF-Tek Paprastoms Mintims |

PF-Tek for Lavpanner |
PF-Tek pentru oameni simpli |

PF-Tek na jednostavan nacin |

PF-Tek za telebane |

PF-Tek para Mentes Simples |
PF-Tek för latmaskar |


Laminar Flow Hood - Build a HEPA filter flowhood |

Hotte de ventilation laminaire - Construire une hotte avec un filtre HEPA |


Psilocybe azurescens outdoor cultivation |

Culture extérieure du Psilocybe azurescens |

Psilocybe azurescens buitenkweek |


Grain for Simple Minds |

Graan voor de gewone man |

Método para torpes de preparación de grano |

Granaglie Senza Fatica |

Le Grain pour les nuls |
Grudai? |


Importance of Gas Exchange |

Het belang van gaswisseling |
Oro kaitos svarbumas |

L'Importance des Échanges de Gaz
|


Polyfil filter lid for Simple Minds |

Polyfil filterdeksels voor de gewone man |

Polyfill for Simple Minds italiano |

Método para torpes de elaboración de filtros de fibra de poliéster |
Dangtelis su filtru |

Couvercle avec filtre Polyfill pour les nuls
|


Pouring Agar for Simple Minds |

Agar uitgieten voor de gewone man |

Versare l'Agar Senza Fatica (...e senza condensa) |

Método para torpes de llenado de placas petri con agar |

Couler l'Agar pour les nuls
|


Cloning for Simple Minds |

Klonen voor de gewone man |

Método para torpes de clonación de setas |

Le clonage pour les nuls |

Clonagem para Mentes Simples |
Klonavimas |


Pressure cooker test |

Snelkookpan test |

Test della pentola a pressione |

Test para comprobar el correcto funcionamiento de ollas a presión |

Teste para a Panela de Pressão |

Test de cuiseur sous pression
|


Pressure Cooker Use |


Homemade Tyvek filter discs test |


Mycelium Inoculation Technique |

Technique d'Inoculation de Mycélium
|


Casing PF-Cakes |

Het Bedekken van PF-Cakes |
PF-Tek pyrageliu aptaisymas |

Casing pour gâteaux PF-Tek
|
Casing pentru prajituri PF